With an estimated 2.05 billion international digital buyers in 2020, there's never been a better time to build an e-commerce website. 
And it looks like the advancement in technology is opening up new opportunities for startups and entrepreneurs to scale their business fast.
If you look at the latest e-commerce design trends, the use of cutting-edge technologies like VR and AI are on the rise. And they are employed along with creative marketing techniques to offer a more personalized and enhanced customer experience.
As every e-commerce company intends to turn one-time buyers into loyal customers, let's focus on how to do it in this article. Making your website mobile-friendly, offering high-value content, keeping the checkout process uncomplicated, creating a customer loyalty program, etc., are all great strategies to turn one-time buyers into loyal customers. Let's dig into the tips one by one.
Build a mobile-friendly e-commerce website
As per stats, 61% of customers say that they are more likely to buy products from a mobile-friendly site. And it is also true that 52.2% of all web traffic comes from mobile phones. 
So there is no reason why you should not focus on building a mobile-friendly site, a site that is designed, developed, and optimized for users who visit your website using mobile devices.
You can check whether your website is mobile-friendly using tools like the Google Webmaster tool. The tool can not only check your site for mobile-friendliness but suggest solutions.
Besides, make sure to follow these additional points to make your site responsive:

Make the information easily accessible for visitors by creating an FAQ page

Avoid text-blocking ads and pop-ups

Increase website speed by compressing your images and CSS and using AMP

Keep your website design simple

Use large font sizes

And regularly conduct mobile testing
For instance, Express' e-commerce site offers its visitors a highly mobile-friendly experience. They have big, vivid images of the items along with prices and short descriptions. It eliminates the need to click each image to find important information constantly.
And the best part is, when a user swipes an image from left to right, it changes so they can see a different view of each piece of clothing without the need to load a new page.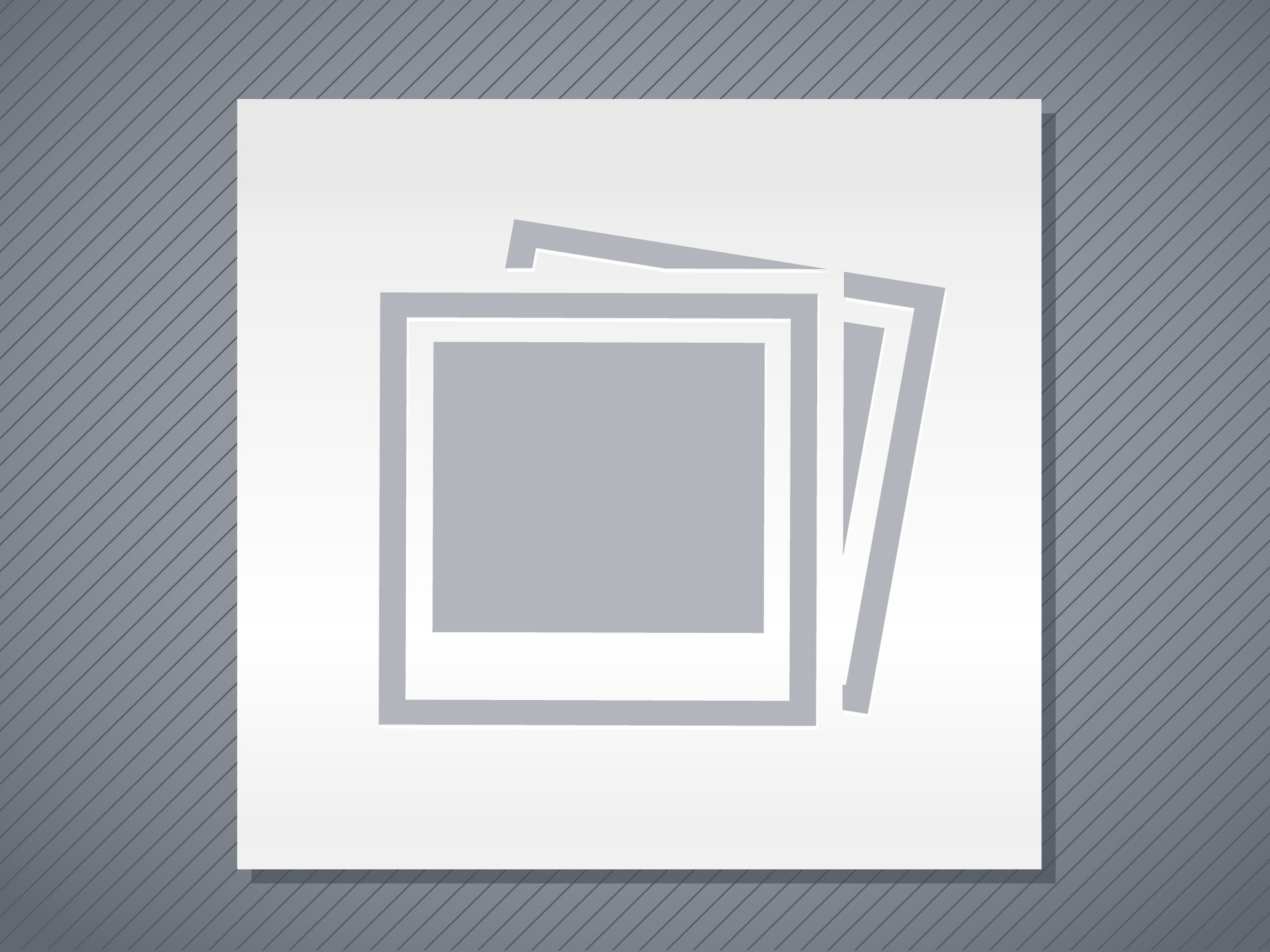 If you look at the stats below, website speed is crucial for your e-commerce business sales. If it takes too long to load, customers will abandon your site and never return.
Thus, building a mobile-friendly site should be your top concern.
Provide high-value content and stellar images
Content marketing can not only help boost your traffic but grow sales and boost your revenue. Your customers want to feel connected and engaged with you. And an effective content marketing strategy can help to build this connection.
In fact, statistics suggest that you may lose up to 44% of prospects if your site lacks content.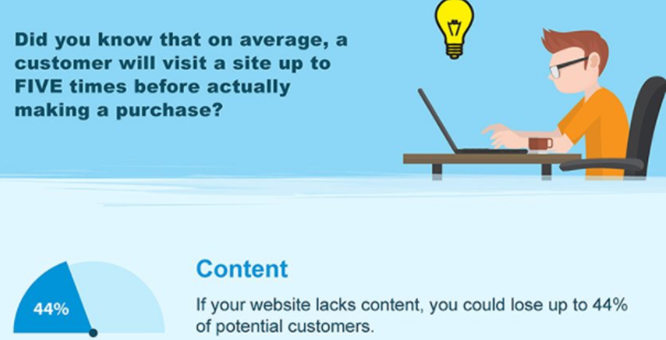 And it is also said that 70% of your customers would learn about your business via an article rather than learn it through an advertisement.
 So, creating fresh, engaging, and informative content regularly should be your top concern. When it comes to e-commerce sites, a neat, easy-to-understand product detail page is crucial regardless of whether you are selling one or several products. Include fitting media, information, and buying options so as to make the purchasing decision quick and easy for your customers.
Be smart while crafting content for your product detail pages. For instance, if you are selling shirts and shoes, you need to provide detailed, high-quality photos to help your customers purchase with confidence. For products that require a consumer education, explainer videos will be apt. And for products with lots of specifications, detailed descriptions and feature lists will enable your customers to compare their options.
Here's how Recreational Equipment Inc. sorts its products by type of outing and offers expert advice on each product so that customers are learning as they purchase their product.
Plus, using keywords is essential to rank high on search engines. It will bring customers to your sites who are searching for the products in your niche by typing the keywords you have included. So, consider outsourcing your content creation work to a professional  SEO agency. 
Have a clear site architecture with categorization
You can have only one or several products listed on your site, but proper product categorization is important when you own a big website.
Use appropriate filters, or categorize products in a pre-defined Menu. It will make it easier for users to find the product they came looking for.
When you don't categorize the products, all the items will be scattered around, giving your customers a poor experience that will make them not want to return to your site. 
As far as layouts are concerned, some websites are abandoning the square grid layout that has dominated e-commerce for years. And the new layout is working well for them.
This design style is an edgy and modern feel, especially suitable for fashionable or new industries.
Provided you design your site right, the new layout can help you to draw more attention to certain products. You can strategically highlight best sellers without having to obviously point them out.
But note that this e-commerce design trend is best suited for brands with not too many products to sell. 
Keep the checkout process simple
There are several reasons why carts are abandoned. And confusing checkout processes and asking users to create new user accounts are among them.
Some websites ruin their chances of converting their visitors by asking them to create an account when they just want to purchase their product.
You would rather want more conversions, including guest checkouts, than a few additional membership signups, wouldn't you?
Allow customers to shop regardless of whether they create an account or not. You have a better chance of conversion without the hassle of account creation.
Have a look at how Nike does it. Before the customers checkout, they are offered three options: Member checkout, Guest checkout, and PayPal checkout.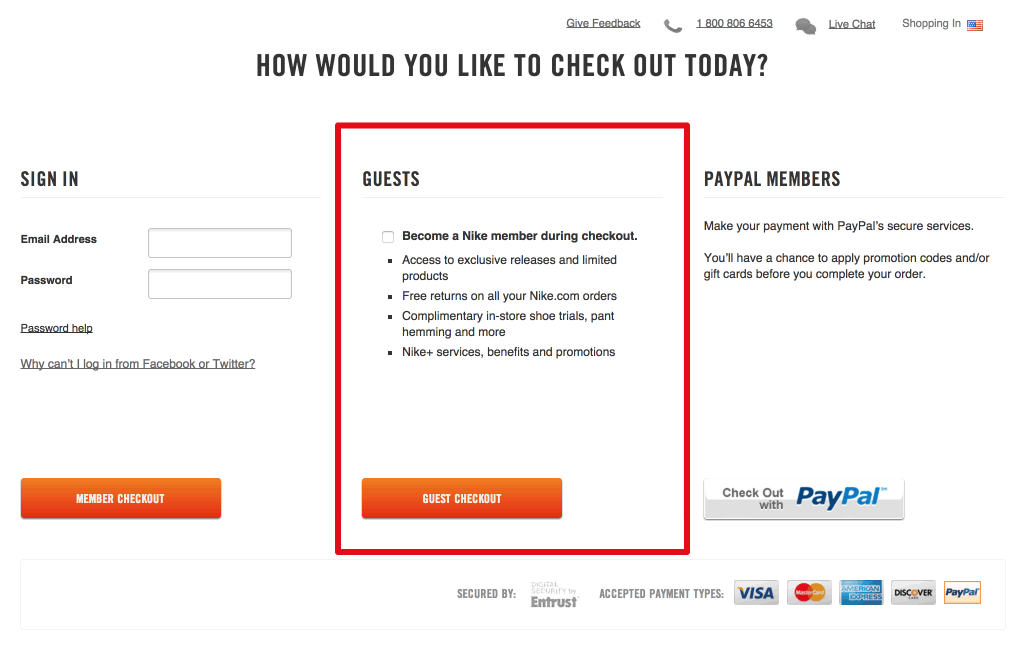 Be nice, and don't force your customers to join your website unless they want to.
Also, as you can see that unexpected shipping cost is the main reason why shoppers abandon their carts, be clear and upfront about any shipping charges. If you are going to charge for shipping costs, inform your customers about it before they reach the checkout page. Sure, you may lose some customers, but there is no point dragging them through the process only to have them abandon their carts at the end.
 Wrapping-Up
There you have it! 4 e-commerce design tips that can turn one-time buyers into loyal customers. 
Providing a seamless customer experience while shopping is key if you wish to retain your customers and turn them into your loyal customers. And when your customers become your loyal customers, they will willingly become your brand ambassadors, helping you to create brand awareness and make more sales. 
Start by building a mobile-friendly e-commerce website as more and more people are shopping via mobile. Provide high-value content, use high-quality images, have clear site architecture with categorization, and keep the checkout process simple. Following these tips will ensure that your first-time buyers will turn into loyal customers.